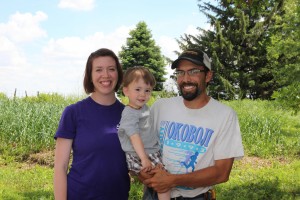 Ellen Walsh-Rosmann, farmer and operator of Pin Oak Place is married to Daniel. Ellen is responsible for the planning and organizing the farm. She also plants, manages labor and finances and does marketing of wholesale product. She also oversees the new egg laying operation. She received her degree from Iowa State University in Public Service and Administration in Agriculture and International Agriculture. Ellen grew up on a dairy goat farm in Northeast Iowa. Ellen is passionate about farming, rural America, local food and making sure ALL people have access to healthy food. She hopes that the farm is an answer for many of these things.
Daniel Rosmann farms and operates Pin Oak Place with his wife, Ellen.  Daniel helps with field preparations, cultivating, planting, harvest and fencing. He also is in charge of 200 acres of organic soybeans, corn, small grains, hay and pasture. He helps his parents on Rosmann Family Farms with various crop and livestock operations.  Daniel received a degree from Iowa State University in Agronomy. Daniel enjoys baseball, learning the guitar, The Simpsons, and working on his daily webcomic, Cows with Phones.
Ellen and Daniel welcomed Xavier to the family December 7, 2012. He is excited to help with the chickens and help mom with weeding.